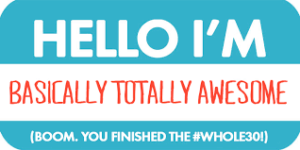 It's no surprise to anyone who follows me in any form of social media (Facebook, Instagram, Snapchat, Pinterest…and so on!), that I love to create Whole30 compliant recipes.  I love the concept of the program.  No counting or measuring.  Just eating natural, real foods, all the time, for at least 30 days.  Because I bombard everyone with my latest creations, I'm often asked a common question by friends and colleagues, "What is Whole30?"  This is typically followed by, "Do you always eat Whole30?", to which I reply that we do about 80% of the time.  But then I brace for a question, that until last week I was pretty embarrassed to reply to, "How many rounds of Whole30 have you done?"…..crickets…..
Truth time…
Until last week I was a Whole30 fraud.  Yes, we eat Whole30 compliant recipes the majority of the time.  Yes, I've started MANY rounds of Whole30.  But had I ever finished a full 30 days in complete compliance with the program rules?  Nope.  Not once. Not a single time.
And it wasn't for a lack of trying.  Each time I'd get geared up to start I'd make sure I had minimal social obligations the next few weeks, clean out our pantry of non-compliant foods, make my first week's meal plan, go to the grocery store, announce my plans to the world on social media in the hopes of some public accountability, and typically have a 'last meal'-type binge.  Then I'd get started.  The program documents that after Day 1 you won't believe how anyone could think this was hard.  It's a strange delusion that comes from eating bacon & eggs for breakfast and calling it a 'diet' (even though Whole30 is SO much more!).
And then came Day 3 or Day 5 or at my best, Day 10.  And for some reason, I would justify to myself that whatever my reason for breaking from the program was, it was worth it.  Good news from work.  A birthday party for a friend.  Our four year house-iversary.  And based on these types of events, you can bet that sweet sweet sweet Prosecco is typically what got me.
So with failure after failure, my attempts to start the program became more and more spread out.  And while they did, my cheat meals became days and days became weeks.  I was feeling sluggish and tired.  I was getting headaches more frequently.  I desperately wanted to try another round, but didn't want to feel like a quitter again.  And then my future sister-in-law, LaNae, said she was going to start a round.  And I don't know what it was…oh wait, yes I do…my competitive spirit, that said, if she can do this, I can to.  And so we started Day 1.
Thirty days passed.  There were easy days.  Hard days.  Days I was two seconds away from quitting.  But I finished.  I am officially a part of the Whole30 alumni club.
In the past few days since finishing, I've been reflecting on what made this round a success.  What was different this time?  And I've come up with three huge reasons.  I hope if you're considering starting Whole30, these will help you too!
---
1) First and foremost, my partner in crime, LaNae. 
There is no way I would have finished without her.  She was someone to compare notes with on how I was feeling during the "HANGOVER" phase, or why I didn't have said, "TIGER BLOOD" energy immediately on Day 15.  We sent each other Snapchats of what we were eating several times a day – whether to spark creative ideas in meal planning slumps or just prove…I'm still doing it!   She was there to remind me of why I started when I had bad days.  She was someone I could brag to when I had good days.  She was my accountability partner and constant support.  And I knew I was hers too.  Which might have been the biggest reason this was a success.  Even if I was willing to let myself down, I didn't want to let her down, leaving her on her own.


2) The second big difference this round was my motivation to start. 
All of the other times I was hoping to lose a few pounds.  But in the weeks leading up to this round, I noticed a drastic sense of fatigue.  I was so tired after work that I barely had any energy to keep up with my very active 2 year old.  This was devastating to me.  This was not the life I wanted to live.  And so, every morning I woke up, I reminded myself that I was not just doing this for me, but for the wonderful memories I was building with my family.  Not that weight loss isn't a great potential benefit of this program, but for me a driver that was beyond physical, and instead deeply emotional, was key.


3) The last significant change this round was how I viewed my goal. 
My goal was no longer to just get to the finish line and complete a round of Whole 30.  Instead, my goal was to prove to myself daily, for thirty days, that I had the discipline to stick to a commitment I had made to myself.   Leading up to this round I read this quote, "The real value of setting goals is not the recognition or reward, it's the person we become by finding the discipline, courage, and commitment to achieve them." (credit: Catsmiley.com)  This really stuck with me.  On hard days, I reminded myself that no matter what my justification was to cheat, it would be outweighed by disappointment with myself that I had committed to something and quit.
So now, when someone asks me in the future, "How many rounds of Whole30 have you done?" I can answer ONE!!!!  And that is something to be really proud of!
| | |
| --- | --- |
| | "A good goal should SCARE you a little and EXCITE you a lot" – Joe Vitale |